Background
P&N Bank is the largest locally owned and managed bank in Western Australia. Operating under a mutual or customer-owned model, P&N provides retail banking services such as savings, transaction and lending products, insurance and financial planning services.
Challenge
As a customer-owned bank, P&N provides its customers with a genuine alternative to traditional banking institutions. Jill Marks, General Manager of Business Transformation at P&N Bank, confirmed, "Our customers are at the heart of everything we do. We aim to provide an experience that sets us apart from competitors—that includes offering friendly, responsive service, as well as products designed to put customers' interests first."
To lift service levels and operational efficiency even higher, P&N wanted to gain deeper insight into key business processes, covering everything from day-to-day account maintenance to deposits and loan processing. The newfound visibility would enable the bank to make targeted improvements, helping teams manage transactions and customer requests faster and more accurately.
"In the past, we were effectively running the business on spreadsheets, so when a customer submitted an enquiry or transaction request, it was very difficult for us to track how that work item moved through our system," said Marks. "We lacked a clear view of the volumes of work we were processing, how long it took to process and what levels of service we were offering to customers. We wanted to improve our visibility and control of these back-office processes, so that our teams could get through their work faster and more efficiently which in turn, would enable us to deliver a better service."
Solution
P&N turned to Process Automation Group to help optimise the bank's back-office operations. As a first step, P&N introduced Omniflow®, a work management system.
Currently, P&N is orchestrating some 90 different processes with Omniflow®, including information-intensive activities such as loan applications and account management. The new system provides teams with unprecedented visibility and control of workload, and has delivered significant efficiency gains and service level improvements.
Marks stated, "After we introduced Omniflow, our productivity improved by over 20 percent, so our staff now get through more work in less time. Our teams in the back office have absolute clarity over what work items are in the system, what stage they are in the process and how long they've been there. Plus, there are now defined workflows for moving items through our system, making end-to-end processes more consistent and straightforward."
She added, "We are now in complete control of what's happening across the back office, and that's allowed us to hit our service-level agreements [SLAs] consistently. In fact, we're meeting back-office SLAs almost 100% of the time. Most importantly, these improvements behind the scenes translate into better service to our customers—we can turn around customer requests and enquiries much more quickly, making their interactions with us fast and friction-free."
Results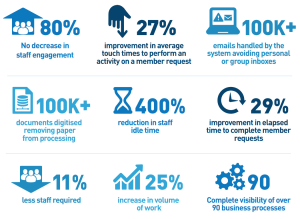 Today, enhanced efficiency empowers teams at P&N to handle higher volumes of work in less time and helps the bank drive profitable growth.
Marks confirmed, "We're still meeting our SLA targets, and we're doing it with fewer people. The productivity improvements have allowed us to avoid hiring new staff in certain areas, and invest those resources into more RPA and other value-added customer facing activities instead. This is incredibly valuable for a small mutual bank like ourselves – Process Automation Group are definitely helping to make us become more scalable, so we can grow our business without driving up costs. As a customer-owned bank, all the profits we make are reinvested in the business, so savings like these add up to even greater value for our customers."
She concludes: "When you combine good technology with good people, you unlock the opportunity to run a better business. Our partnership with Process Automation Group is helping us improve both our customer experience and operational efficiency, while making our colleagues' lives easier."